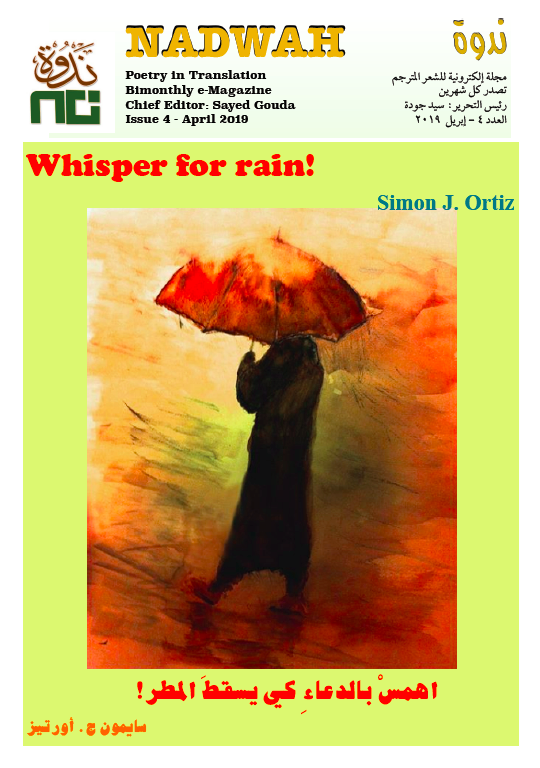 Whisper for Rain!
Editor's Foreword
This new issue of Nadwah features sixteen established and published poets that represent a wide varieties of cultures. We are happy to have in this new issue Native American, African, Pakistani, Mongolian, Greek and Italian poems translated in Nadwah for the first time. As we did in the previous issue, we have translated some master poets as well: Rilke, Nabokov and al-Malaeka.
This issue welcomes new editors who joined our editorial board: Marjan Strojan for the Slovenian section, Sarah Thilykou for the Greek section and Luca Bennassi for the Italian section. We still welcome more editors and translators of different languages to join our editorial team.
More
اهمس بالدعاء كي يسقط المطر
كلمة المحرر
هذا العدد الجديد من "ندوة"يضم ستة عشر شاعرًا من الشعراء المعروفين والذين لهم إصدارات سابقة، يمثلون ثقافات مختلفة. يسعدنا أن يضم هذا العدد الجديد ولأول مرة قصائد مترجمة من شعر أمريكا الأصلية، وإفريقيا وباكستان ومنجوليا واليونان وإيطاليا. وكما فعلنا في العدد السابق، فقد قمنا بترجمة بعض القصائد للشعراء الأساتذة أمثال ريلكه، نابوكوف ونازك الملائكة.
في هذا العدد نرحب بالمحررين الذين انضموا مؤخرًا لفريق المحررين في المجلة: ماريان سترويان محررًا للقسم السلوفاني، ساره ثيليكو محررة للقسم اليوناني، لوكا بيناسي محررًا للقسم الإيطالي. وما زلنا نرحب بمزيدٍ من المحررين والمترجمين من لغات أخرى لأن ينضموا لفريق المحررين للمجلة.